Post by markwj on May 7, 2010 23:21:28 GMT
Deathfest
University, Leeds
2/5/10
Death, it comes to us all. But lately I've been feeling I've been kind of rushing in its general direction, or at least getting there in exponential increments. I reflected on this in casualty a few days after the event with my second broken bone of the year.
I missed last year's inaugural Deathfest, an alldayer offshoot of the Damnation festival for those of even MORE extreme tastes. This "Second Coming" suited as a fine warm-up for our forthcoming trip to Hell, with a lot of interesting bands though there was some disquiet elsewhere that there wasn't as much on the line-up to attract numbers to this.
Anyway, via the train I met up with Flames and El in Wrexham and then was chauffeured over the Pennines, naturally starting the refreshments early on the way. Drinking and driving, tut tut eh?. After sorting our hotel we had a further couple of pit stops on the way up through Leeds before getting in to the venue.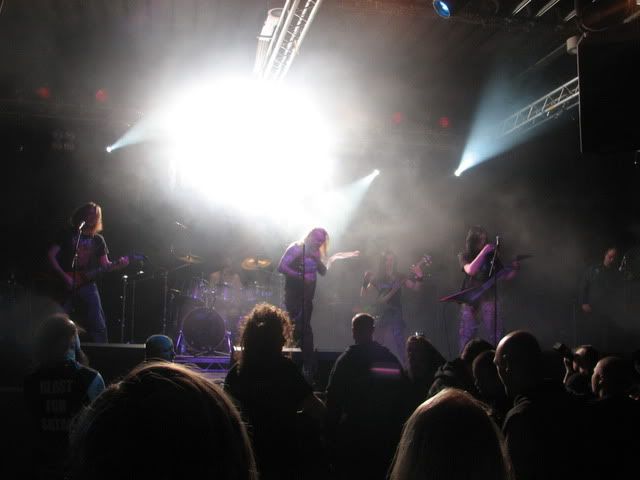 We'd unfortunately missed some of the earliest acts and the first we got to see on the larger stage was Infestation, straight -up death metal from London. Not particularly adventurous or technical but definitely are hitting the spot in their chosen field and starting to stir up a response in the still gathering crowd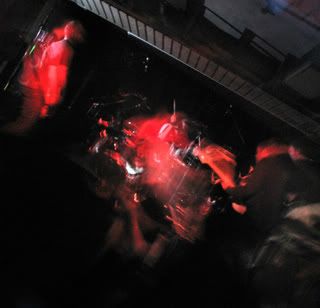 Through to the smaller stage now for one of my must sees. Palehorse, also up from the big smoke, I've seen and reviewed here before and they are captivating live band, that are in your face both in terms of the pummelling, aching, two bass and drums onslaught and with their wandering vocalist in the heart of the crowd. They only have time for a few of their experimental doom epics, their forthcoming "soft as butter, hard as ice" album will have to provide until they can be experienced again.
Back on the main, Amputated from Bristol were also "traditional" in their death metal approach, guest guitarist Ollie from Desecration definitely triggering the recent memories of their style seen close up last week. What really raised their game was the hilarious deadpan delivery of the banter on their ferociously un-PC song titles, we were just the kind of twisted audience to appreciate them.
Next through to see Fukpig and one of the highlights of the day, even if it's only tea-time! Brummie crust-core, no great secret despite the Mexican wrestler masks that it contains Mistress connections, their d-beat/blasting charge inspires relentless pit mayhem and broad smiles all round. Topped off with a snarled political meaning, it reminds of the best of Doom and makes me look forward to see them all the more soon
The Roman's are coming, in the shape of Hour of Penance. I'd been happily blown away by their very recent "Paradogma" album with it's incredible non-stop Behemoth style harsh death, but unfortunately I think they struggled to get that across on this live occasion. Whether it was just the sound mix who's to say, there was still a lot to enjoy and the tempo of the day was kept up. Including the drink rate.
Singapore's Wormrot took that tempo to another level entirely next. Hyper grindcore very much in the fashion of Insect Warfare, the connection made in the mind especially as Earache have just signed them up too. Only a three piece, the youngsters look chuffed with their great reception. I may have a deeply ingrained bias but i did think they lacked that low end punch but it seems no bass is acceptable in some grind, oh well.
I'd been looking forward to getting the opportunity to see Romanians Negura Bunget as they'd pulled out of their previous scheduled appearance at a Damnation do. Though their epic mix of black metal and folk experimentalism was definitely striking for some reason I wasn't initially drawn in and then my interest waned all the more. There was no doubt they did have many fans though so maybe I'll give them another chance in France
Similarly, didn't have much time for Abgott. From London though sounding Scandinavian, they might have started off as some pretty straight forward raw black metal with the corpse paint to establish their kvltness, but playing a cover of Megadeth's "Holy Wars..." as their second song struck me as just odd and fairly cheesy. Didn't even like the original much by that time!
Things were dragged back on track as we got to the beginning of the end with Immolation on the main stage. From New York they've been going since the original late 80's death days but for my sins i am late to the party, like i was with their fellow scene veterans Suffocation who i only got to see a few years back. There's a fair slice of similarity to them in their ultra heavy brutalism, real steamroller powered riffs and gruff vocals but mixed in with some interesting dissonance too. They highlight their new "Majesty and Decay" album amongst a load of old school, all very satisfying and glad I've got round to them at last.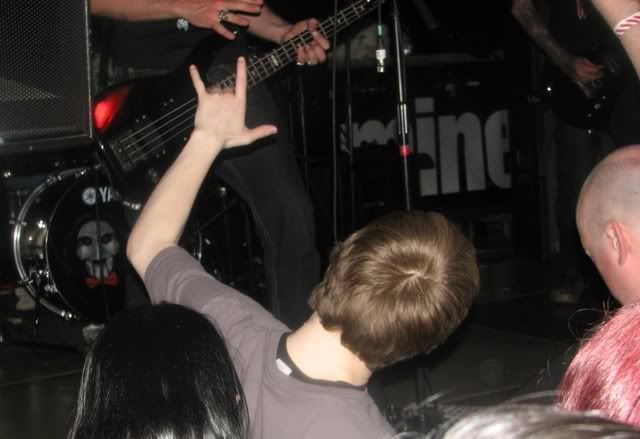 A sharp contrast now with the last on the second stage, Ramesses. This is a three piece of guys who had previously been involved in Electric Wizard and like the revelatory experiences I've had seeing them and the likes of St Vitus in recent times they are just hypnotising. Colossal, chronic doom, massive riff loops and noise with a harsh and sparse vocal over the top. you don't need to be stoned to listen to them, the tidal waves of sonic vibration they unleash do the trick fine. I'll be chasing up their new "Take the Curse" album presently.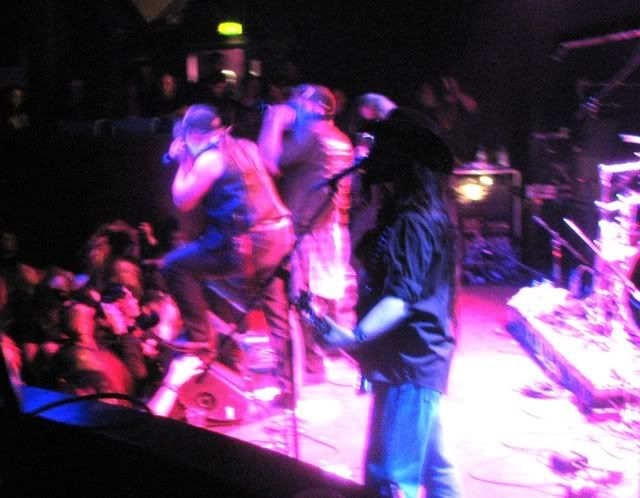 So to finish us all off what better than a hit by some fat Mexican gangsters? Also known as Brujeria, this long standing but rarely appearing extreme metal collective has been an evolving supergroup of sorts, and them all wearing bandana facemasks does next to nothing to hide the fact that yes that is Shane Napalm Death's afro and Jeff Carcass's cowboy hat. They provide the stripped down punchy and raging musical backdrop but the focus is all on the dual vocal attack of the (genuine

) Hispanic front men. Or maybe we were just transfixed by the bare beer belly! Their shouted/chanted Spanglish is almost punk in its feel and there's little let up in the pace, apart from a worrying break when a stage diver knocks himself out. Pure entertainment though, everyone wants to be down with the hiyo de putas.
I thought I'd survived all the day could throw at us, only to throw myself at a wall at the aftershow party and break my collarbone, still, great crack

Unfortunately the organisers have had to knock the event on the head and just concentrate on Damnation as attendance on this one didn't cover costs and this is a great shame, it is to all our losses but at least this was one to long remember. I was remembering it three days later when i eventually went to casualty. I'll be remembering it over the next month while i'm crippled too! Death uber alles!