Post by markwj on Aug 3, 2010 14:00:41 GMT
Cattle Decapitation, Beyond Terror Beyond Grace, Gorod
Central Station, Wrexham
26/7/10
cattle decapitation - this fast!
It's with great delight you can tell people you're going to see a band named thus, very much doing what it says on the tin of dog food. Though this is not some simple shock rock, there's a whole concept and philosophy behind the Americans' vegetarian grind onslaught against the meat industry and its representation of human species superiority complex. So its very interesting to sit on their pre-show interview with Gwyn from The Broken Jukebox show on tudno.fm who has gained me a plus one plus a lift to get in here tonight, and here them happily talk at length on these topics, as well as DIU charges, tech obsessions, hanging out with Jarboe etc.
They may well have tacked this Euro tour on the back of one of their biggest shows to date at the Obscene Extreme Festival in the Czech Republic but a Monday night in Wrexham is not going to challenge those numbers, and we're lucky if there's 30 or 40 in. The main supports were evidently alternating, as opposed to the tour listings it was French band Gorod who were on when we got back from a breather in 'spoons. They'd been on at Hellfest but either an early set or clash had meant I hadn't caught them so this was new to me. Certainly diverse death metal, with a vicious vocalist, but for all the shifts and changes I am left with not much memorable, perhaps a listen to their material would encourage me more.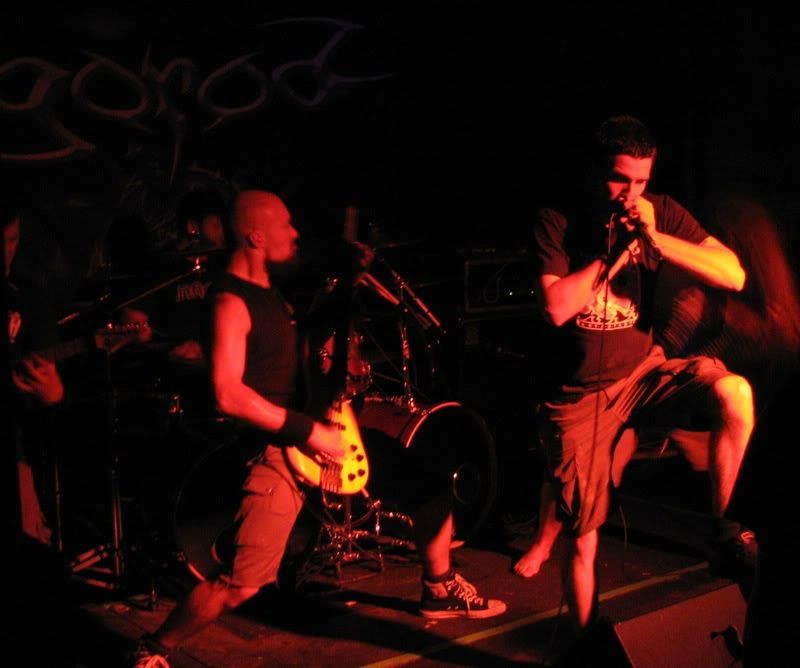 Also coming via OEF the Aussies of BTBG were far more of a revelation to the uninitiated/me. To a surprisingly even more thinned out crowd they launched into a battering grind onslaught, lovely/filthy bass, the vocalist a feral explosion of fury contorting barefoot around the dancefloor. They reminded me favourably of their compatriots Captain Cleanoff, but where they deviated from the Napalm/Nasum grind template was in combining it with the sharp contrast of ultra sludge doom, with their final anguished epic being more in Cult of Luna territory and pleasurably shocking a lot there.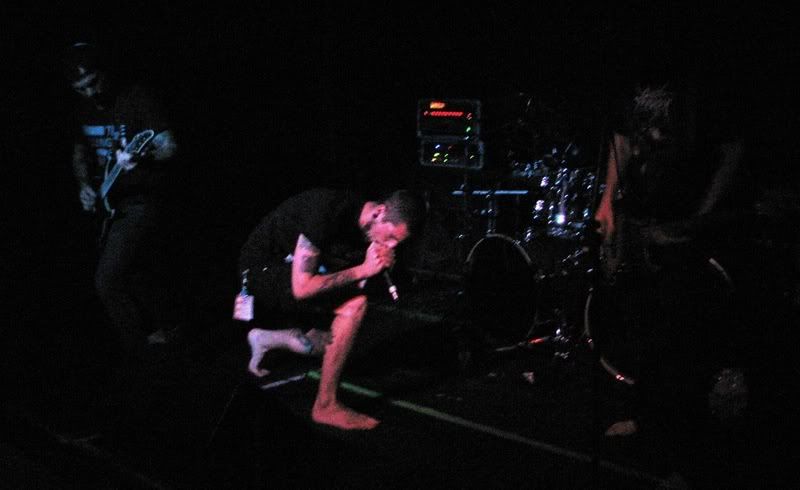 So the headliners weren't tempted to pull any punches in spite of the intimate rather than intimidating crowd. They firmly reside in the grindcore genre but such is their level of technical dexterity (ably demonstrated on their most recent release "The Harvest Floor" that they fly off on many a brief tangent within the structures of their machine gun blastathons. Vocalist Travis definitely expresses the passion behind the beliefs, at times he seems almost in a trance as he screams and roars. There is perhaps a lack of impact of times where I think the sound mix struggles to fully deliver their complexity and speed, but generally it's a pleasing catharsis of noise that Wrexham is lucky to share in.