Post by neilcrud on Feb 8, 2007 22:36:10 GMT
Dirty Words
Green Minge
Bar Blu, Rhyl 07.02.07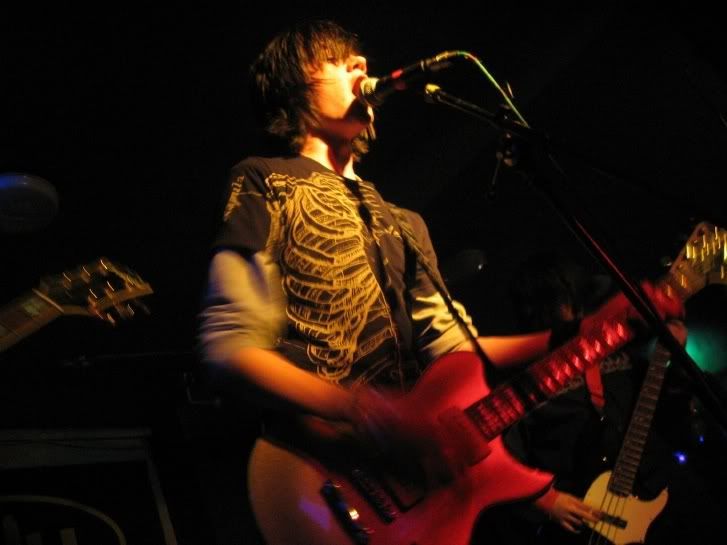 (Review n pix by Neil Crud)
Ha ha - Blood & Lipstick promoter, post-punk DJ and coke-by-the-pint drinker Steve Rastin, whipped the rug from under the
Green Minge
(pic below) live debut after 20 minutes, stating it was a Broken Pavement moment - see review from 2004
www.link2wales.co.uk/tbg/gigs/flesh.htm
.
Yes it certainly was a Broken Pavement moment and for 20 minutes, the wonderfully named Green Minge kept the masses bemused, amused, unamused, ashamed and aghast. Any longer and I'm sure one (or all) of the band would've got bottled, but for those 20 minutes it was a mindless, yobbish and ridiculous spectacle to remember!
There was a hippy band called Exit in the early 70s who used to have a fluid line up on stage , where people would join or leave the band during the set and just improvise. This was similar, but without the improvisation!
The opening song (that is a very loose term - maybe 'piece' would be better) had the drummer texting someone on his mobile rather than play - again, I say drummer, but I don't think he actually played anything, instead choosing to get up, walk around the stage, drinking and then joining in on the microphones before a 'guest drummer' appeared. This led to a song of sorts, like the Butthole Surfers - a triple bad acid tripped out Butthole Surfers. It may turn out to be as legendary as the aforementioned Pavement performance, like the Old Dolphin Brigade at christmas. Hmmmm...
Apologies to the excellent
Micrographia
and
Schismatic
, but being such a hard working twat, sleep beckoned me so I could be up at some ungodly hour on a snow filled morning.
I can tell you that Microgrphiia will have been absolutely superb and a good source tells me that Schismatic were very, very good.
Dirty Words
(top pic) prove there is more to Llanberis than grey mountains, inbreeding and rain. There is a also a well rehearsed, tight band with an excellent drummer. The music isn't as ground breaking as it would've been, say 5 years ago, but these type of punk bands tend to do the rounds then discover diversity after a year or so. I'll link this review to see the difference next year...!